Ira Malaniuk – cosmopolitan and one of the most famous opera singers of her time. Due to her tours and work in different cities she is considered a well-known Austrian, Swiss, German and Ukrainian opera singer.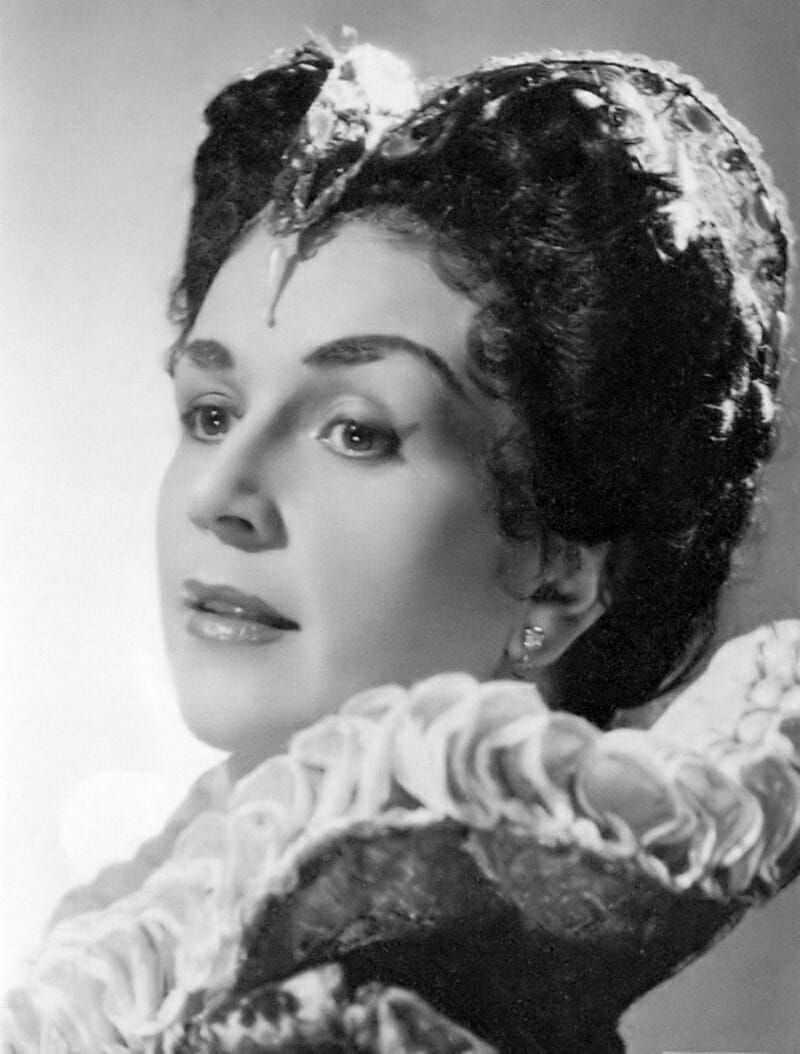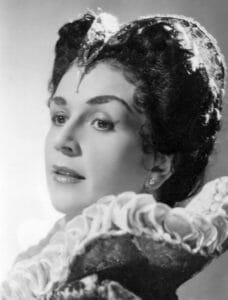 She was born on January 29, 1919, in independent Ukraine, in Stanislav, which at that time became the capital of the WUPR (West Ukrainian People's Republic).
Ira Malaniuk was a soloist at the opera houses of Lviv (1940-1944), Graz (Austria, 1945-1947), Zurich (Switzerland, 1947-1952), Munich (Germany, 1952-1970) and Vienna (1956-1974).
She took part in the Wagner Festivals in Bayreuth (Germany, 1951-1954) and the Salzburg Festivals (Austria, 1956, 1958-1963).

Ira Malaniuk - youth
At the age of 16 she began studying opera vocals at the Stanislav Conservatory. A year later (1936) young Ira made her debut in Otto Nicolai's opera The Windsor Jesters (1810-1849 – German composer and conductor, one of the founders of the Vienna Philharmonic Orchestra, member of the British Academy of Arts).
Ira made her debut on the stage of the Lviv Opera House and worked as a soloist at this theater until 1945. There she took vocal lessons from the famous bassist Adam Didur.
After the war  she moved to Vienna, living in German-speaking Europe for almost all of her life. She returned to Lviv only 50 years later in 1994. Ira herself said that after the war she became an Austrian, but she always remained Ukrainian in her heart, so she considered the places where she lived her second homeland.
Ira Malaniuk - family history: Solomiya Krushelnytska, father Osyp Malaniuk and Vienna
Solomiya Krushelnytska was the daughter of one of the brothers of Iryna Malaniuk's grandmother i. e. , a cousin of Iryna Malaniuk's father. Krushelnytska spent most of her life in Italy where she sang, among other things, with the famous Polish bass Adam Didur who was Iryna Malaniuk's teacher. In Milan at the end of her career Krushelnytska also taught singing. Before World War II Solomiya returned to Lviv where she died in 1952. Soon, a museum was set up in her Lviv home where, as Ira writes, "I had the opportunity to pay my respects to my 'unknown' relatives during my last visit" (p. 18).
The story of Iryna Malaniuk's family, as well as her own, is similar to the story of intellectuals in the turbulent, terrible and tumultuous times of the late 19th and early 20th centuries.
The story of Shevchenko's ransom from slavery is a well-known one from a school textbook. Iryna Malaniuk's ancestor, the writer Vasyl Zhukovsky, commissioned a portrait of himself by the artist Karl Bryullov. The proceeds made it possible to redeem Shevchenko from serfdom in 1838. Because of his support and all kinds of creative assistance to Shevchenko, Zhukovsky was exiled from St. Petersburg to Hlukhiv (Podolien), but as Ira Malaniuk writes in her autobiography (p. 15), there is no historical evidence for this. However, it can be assumed that this event took place, because it was the place where her grandparents lived.
Iryna's grandfather, Alexander Marian Zhukovsky, was the first person who had such a positive and decisive influence on her, she said. As the son of a Greek Catholic priest, he was supposed to choose the same profession, but six months later some unknown incident occurred at the seminary in Stanislav and he declared that he wanted to change his profession and become an artist. The family was shocked and did not allow their son to choose painting, so they sent him to Vienna to study medicine. There, he met his future wife Gabriela von Kluycharich. They were married in St. Barbara's Church (Postgasse 8, Vienna, 1010) and returned to Stanislaviv in 1883. "I regularly attend Sunday services in the church that former choirboy (Sängerknabe) Monserie Dr. Alexander Ostheim-Dzerowycz has been leading complements with his unsurpassed singing (the organ is not used in Greek Catholic services)". (p. 20)
Ira loved singing Ukrainian folk songs with her grandfather and listening to his stories about travels to England, Italy, China and Japan. He taught her how to play chess. After his death in 1927 she often looked at his travel albums. In addition to his profession as a doctor, he learned to paint and he also loved to take photographs when he didn't have the time or opportunity to paint.
Ira studied Polish and Ukrainian at school, spoke Ukrainian and German at home.
Iryna Malaniuk's father, Osyp Malaniuk was born in 1873. Shortly before the First World War, he studied medicine for a year in Graz, where he founded the Ukrainian student society Sich. It has existed for more than a hundred years and is still functioning in some form today. Thus, Sich is the oldest existing Ukrainian organization, although it is not as active today.
Osyp Malaniuk completed his studies in Krakow. During the First World War he worked as a paramedic with the rank of Colonel of the Army. He served in Austrian elite units, dragoon and lancer regiments.
In her autobiography (p. 22), Ira Malaniuk writes that in the 1960s, after a concert conducted by Paul Sacher at the Vienna Concert Hall (Lothringerstraße 20, 1030, Vienna), a man approached her, introduced himself as Count Andreas Rasumofsky (Rasumofsky is the spelling in her autobiography) and asked if she was related to Dr. Malaniuk. As it turned out, Iryna's father operated on the young Rasumofsky when he was a warrant officer. He was the grandfather of the historian and politician Gregor Rasumofsky who lives in Vienna and is a descendant of the last Ukrainian hetman, Kyrylo Rasumofsky.
Related people
Ira says in her autobiography that these are not isolated cases. A few years later, when Ira was looking for an apartment in Vienna and during one of the inspections, the owner of one of the apartments, Graf Attems, was a patient of Dr. Malaniuk's since the First World War!
Das kann einem nur in dieser Stadt passieren, dachte ich, dass man sich auf Schritt und Tritt der eigenen Vergangenheit begegnet!  

It's only in this city, I thought, that you encounter your own past at every turn! (p. 22)
When Ira got roles in Graz after World War II, she took her parents with her. Iryna Malaniuk's father, Osyp, remained a respected figure among Ukrainians in Graz. He died in 1949 and was buried at the Ukrainian cemetery in Graz, where the student choir performed a memorial service.
Ira Malaniuk - World War II and the Occupation
Ira and her sister were in Warsaw as the Second World War began. On August 27, 1939, Ira's sister Elsa arrived in Warsaw from Gdansk with disturbing news and anxiety: "Ira, the Poles from the north were being evacuated, there would be war". Ira assured her sister that this was impossible. Elsa persuaded her to go to Stanislaviv together, but Ira, safe and confident, said she would stay in Warsaw. Elsa said she would stay with her then.
A week later, they were standing at the window in the house, looking out on a clear June day. Suddenly Elsa shouted out: "Look, Ira, what an unusual rich key of birds in the sky". A couple of minutes later they were confused and frightened by the strange sound of birds and hundreds of bombs falling on Warsaw.
Despite this, she decided to stay and continue working at the opera. The entire opera hoped that perhaps the situation was not so critical. However, already on September 5, 1939, Adam Didur gathered his four students, put 50 zlotys in their hands, and ordered them to "Watch out, so that you are saved".
For a month afterward, the two sisters traveled through Poland on foot, in crowded trains and by car to Stanislaviv. Almost a month later, on the evening of October 3, 1939, they arrived home. When the father, who had turned white with fear during this time, saw his two daughters on the doorstep, froze with excitement and joy at the same time.
Ira worked at the Lviv Opera and came to Stanislaviv from time to time.
The Russian occupation was ruthless. In her memoirs she describes this time as one of the most terrifying – she and her sister constantly slept with their clothes on and had packed emergency backpacks with them. When Chernivtsi was occupied by the Russians in 1940, the then-Russian director with the German surname Holzmann made sure that everything in the city was moved to the Lviv Opera House. The vice director, Polanski, was an ardent communist and an employee of the NKVD. He made no secret of the fact that he cared about Ira. Once, after a visit from Chernivtsi via Stanislaviv, Holtzman warned Ira after seeing the Malaniuks' house:
I would advise your parents to move to Lviv. Their house in Stanislav is too big.
Ukrainian and Polish intellectuals, entrepreneurs, lawyers and "too rich" people were taken from their homes at night and deported to the East. No one knocked on their door, but at night they could hear screams, sobs and gunshots.
In the morning, someone always disappeared at the opera – you couldn't talk about it, you couldn't ask, you couldn't make any unnecessary sounds, you couldn't make any unnecessary movements.
The Malaniuk family assured themselves that perhaps the doctors would be "luckier". The soldiers needed doctors. Not only soldiers, but also Soviet military administrative personnel came from a distant, apparently completely uncivilized Asian region. In her memoirs, Ira writes that she herself witnessed several times how the toilet was used as a washbasin and the wives of military commanders went to the theater in silk nightgowns. (с. 46).
During the German occupation, Ira lived mainly in Lviv. She lived with an old Polish woman, Frau Majewska. The locals hoped for a "better" life after the Germans arrived, but things only got worse.
Ira Malaniuk - from refugee to first contralto Vienna and Graz (1944-1947)
 Ira Malaniuk – Austrian forced emigration
In an attempt to fit in, Ira went to Wroclaw for an audition. After the long journey and the audition, Felix Ballhausen said with admiration and amazement:
«Such a young child! You have talent, but what should I do with you? There's only one vacancy in the countryside, but I can't send you where the bombs are flying!»

"So ein junges Kind! Sie haben Talent, aber was soll ich mit Ihnen machen? Es gibt nur eine Vakanz im Ruhrgebiet, aber ich kann Sie doch nicht dorthin schicken, wo die Bomben fliegen!" (c.55). 
 Then Ira had another idea:
I'm going to Vienna.
She often repeated that she mentally traveled to Vienna thanks to her grandmother's lively and fascinating stories. Now, seeing that there was no other way out but to emigrate, she packed her bags. As she writes in her biography, she thought it was safer in Vienna.
Russians in Vienna? Unthinkable!

And then she immediately adds to herself:
why did all the "unthinkable" things happen in those years?
The only contact in Vienna that Ira received from her pen pal's mother was Lily Hoffmann. And so, on a cold February evening in 1944, young Ira Malaniuk arrived at Vienna's Ostbahnhof. As it turned out, aunt Lily has not lived in Vienna, but in Pressbaum. Through the Westbahnhof she traveled to Presbaum, where a kind man took her to her aunt Lily's house. The next morning over a "heavenly breakfast" they both were deciding what to do next. Her aunt Lili placed Ira in her sister's apartment (who had fled to the countryside because of the war) in Vienna's third district on Landstraße Hauptstraße. Her aunt arranged an audience with the well-known but already respected singer Anna Bahr-Mildenburg.
She was considered a renowned performer of Wagner's productions and enjoyed extraordinary success at the Vienna Court Opera under the direction of Gustav Mahler (1897-1907). Anna Bar-Mildenburg's crown performance was considered to be that of Isolde in Tristan and Isolde. After a fantastic career at the court opera, Anna taught at the Johannesgasse Music School in Vienna. 
She was a fascinating figure, and her majestic performances reflected the greatness of the Kaiser's operatic tradition. 

Sie war eine faszinierende Gestalt, in ihrem majestätischen Auftreten klang die Größe einer imperialen Operntradition nach. (c. 57).
Anna's very first reaction to Ira was an enthusiastic "Talent! What a talent! But, my God, child, how do you pronounce it?" Iryna had a noticeable accent and Anna helped her work on it.
The first parts Ira worked on were Orpheus, Carmen and the Ring of the Nibelungs. It was extremely difficult for her because of the German language. She didn't understand a lot of things, but she wanted to do it so badly. Anna Mildenburg helped the young prima tremendously. 
My dear, you have no idea how many stars sing in German without understanding a single word about what it is.
Mildenburg had great faith in Ira, she wrote her an impeccable recommendation for her "exceptional voice quality and talent for presentation" (außergewöhnliche stimmliche Qualitäten und Darstellungsbegabung) and invited her to her master class at the Mozarteum during the Salzburg Festival in the summer of 1944. Unfortunately, Ira did not have the financial means to pay for the course. Anna then organized an audience and a charity meeting where one of the attendees, Frau Hofrat Salzer immediately agreed to give Ira 200 Reichsmarks to pay for the course.      
Ira Malaniuk – success in Graz
After Vienna, Ira Malaniuk studied singing at the Mozarteum in Salzburg (1945). Later she became an opera soloist in Graz, Austria (1945-1947) and later in Zurich, Switzerland (1947-1952).
On December 13, 1945, at the age of 26, Malaniuk made her debut at the Graz Opera House as Azuchera in Giuseppe Verdi's opera Il Trovatore. It was a huge success, after which the mayor of Graz invited her to become an opera soloist. In less than two years she has played dozens of major roles, mostly in German.
Ira Malaniuk – Wagner Festival in Bayreuth in 1951
However, even greater success awaited the singer during the Wagner Festival in Bayreuth in 1951. There was a production of The Ring of the Nibelungs led by the famous conductor Herbert von Karajan. They were horrified to discover that there was no one in the theater to sing the mezzo-soprano role of Fricka. When Irina Malaniuk was called, she immediately saw her chance and within two hours was in the dressing room, trying on the costume and learning the part. It was her triumph, which for many looked like it came at a price.
She remembered this performance as a lucky chance that allowed her to rise to the top of world fame," said Frankivsk musicologist Oleksandra Turyanska. – But in reality, Ira owes her success to her daily work, brilliant performance skills and artistic talent. She impressed with her wide range of singing, voice control and clear articulation regardless of the language she sang in. The singer had a royal posture, could recreate an image on stage with her movements and her eyes, was attentive and obedient – she could immediately feel what the opera directors were demanding of her. 
Read on Storinka. at about the success of Oksana Lyniv, the first woman to direct the Opera in Graz (2017-2020) and the first conductor in Bayreuth (2021)
Ira Malaniuk – opera prima donna
After leaving Austria for ten years, Ira Malaniuk returned as an opera soloist. Over the next seventeen years (1956-1973) according to her personal records, she performed 270 times as a soloist at the Volksoper in Vienna (Währinger Str. 78, 1090 Vienna), 212 times as a soloist at the Vienna State Opera House (Herbert-von-Karajan-Platz 1010 Vienna).
That's an average of three recitals a month during the opera season!!! In 1973, Ira Malaniuk was awarded the title of Kamersinger in Austria. It was in Austria that Ira Malaniuk ended her career, performing for the last time on May 14, 1976.
Interesting facts:
In her autobiography The Voice of the Heart, Iryna Malaniuk recalls Solomiya Krushelnytska. She was a cousin of Iryna Malaniuk's father. Malaniuk says that she has never met Solomiya, but it is possible that her love for theater and the stage and "a drop of her blood flows in my veins. " In addition, the famous composer Myroslav Skoryk is Iryna Malaniuk's cousin.

In Stanislav, Ira Malaniuk lived in her parents' house (now 17 Hrushevskoho Street, Ivano-Frankivsk). Her father built this house himself and used it as his private medical practice. Dr. Malaniuk then bought the first X-ray machine in the city. Colonel Osyp Malaniuk had a career as a military doctor in the Polish army, which he abandoned in favor of a private practice as a surgeon. Osyp Malaniuk served as the commandant of the military hospital of the Ukrainian Galician Army in Stanislav. It was Iryna Malaniuk's father who operated on the young cadet Andriy Rozumovsky, the father of Gregor Rozumovsky, a direct descendant of the last Ukrainian hetman.

The university of Graz has a hall named after Iryna Malaniuk. More information on the website of the University of Graz
Documentaries:
Іра Маланюк

| #05 Сезон 3 | ART ПерсонА, ART ПерсонА YouTube, 29.01.2019.

Ira Malanyuk | #05 Season 3 | ART Persona, ART Persona YouTube, 29. 01. 2019. 
Literature: